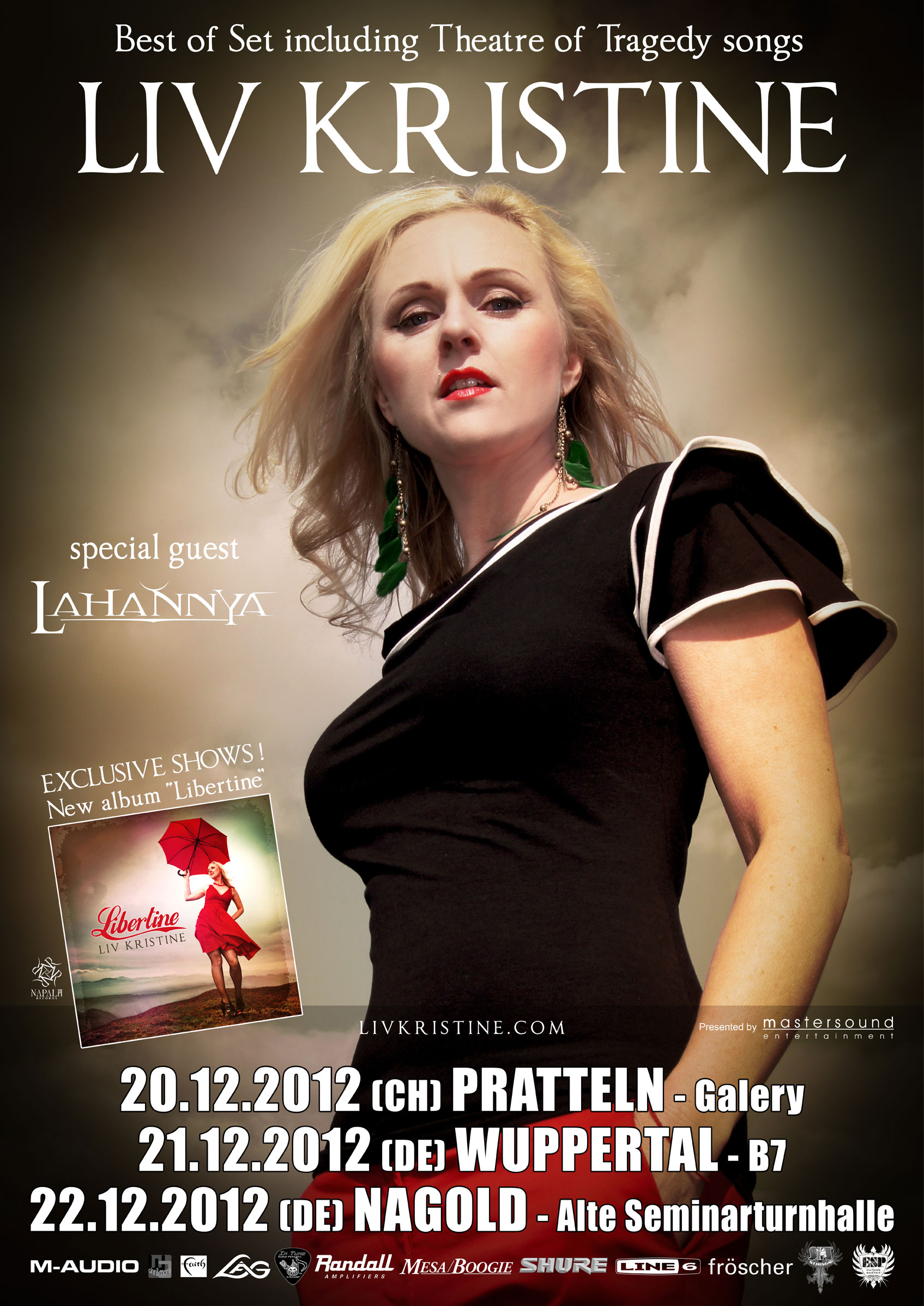 The tickets for LIV KRISTINE's solo show at B7, Wuppertal on the 21st of December are now on sale!
You can order them online by clicking the following link:
http://www.wuppertal-live.de/?114836
You can also buy tickets at the following locations:
Wuppertal
Elberfeld – Ticket-Zentrale, Volksbühne, Wuppertal Touristik, Café Ada
Barmen – LCB, Musikhaus Landsiedel-Becker
Langerfeld – Reiseoase
Cronenberg – Cronenberger Anzeiger
Ronsdorf – Ronsdorfer Bücherstube
Vohwinkel – Buchhandlung Jürgensen
Solingen:
Innenstadt – Solinger Tageblatt
Ohligs – Buchhandlung Kiekenap
Wald – Buchhandlung Bücherwald
Remscheid:
Innenstadt – Gottl. Schmidt Lennep – Rotationstheater
Lüttringhausen – Lüttringhauser Reisebüro
I am really happy to announce that LAHANNYA will support LIV KRISTINE at our three up-coming solo shows in December.
Moreover, I have more good news for all Theatre of Tragedy fans: Lutz Demmler (ASP, Lahannya, ex Umbra et Imago) will be my special guest!
We will perform a legendary duet many of you will remember from 1996: Tanz der Schatten!
This will be a very special night with LIV KRISTINE and LAHANNYA!
Can't wait to meet and greet you all after the show!
Love, 
Liv