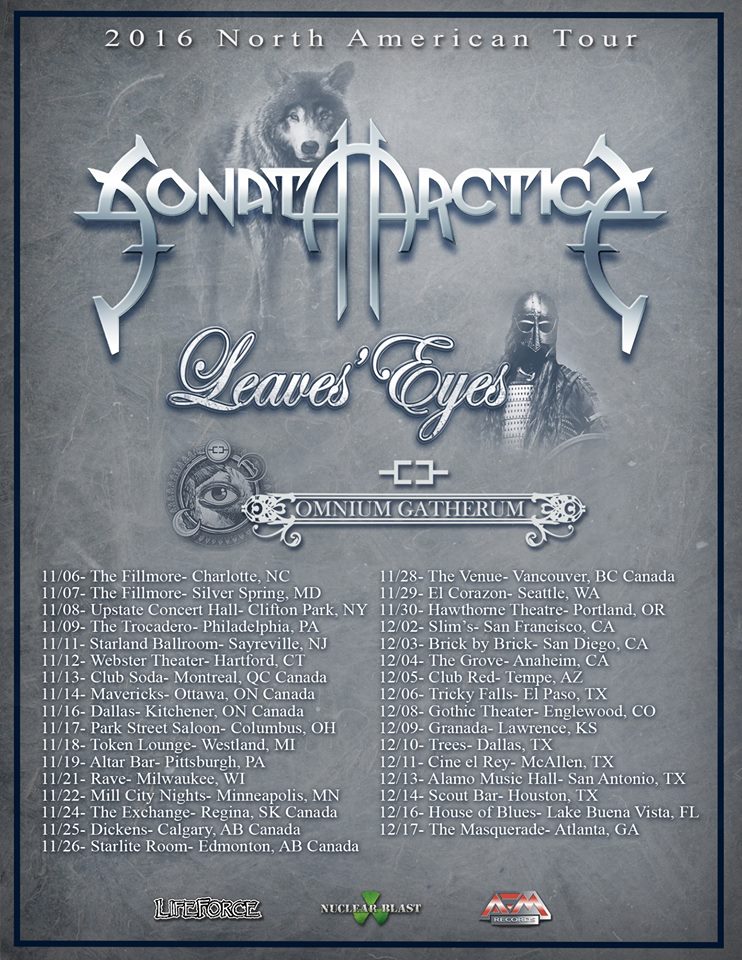 Dear Fans and Friends,
we will return to the US and Canada this year and proudly announce our Northern American Tour together with headliners Sonata Arctica and support Omnium Gatherum! We are looking forward to see all our American and Canadian fans on this tour!!!!
Advanced tickets for the confirmed tour dates are now available exclusively at EnterTheVault.com. A limited number of VIP Meet & Greet tickets which include a poster will be available for for purchase for each show.
Tickets will go on sale April 29th at all other outlets.
Soon we will announce exclusive Northern America headliner shows, stay tuned!
LEAVES' EYES North America 2016 with SONATA ARCTICA and OMNIUM GATHERUM
06.11.2016 USA – Charlotte NC – The Fillmore*
07.11.2016 USA – Silver Spring MD – The Fillmore*
08.11.2016 USA – Clifton Park NY – Upstate Concert Hall*
09.11.2016 USA – Philadelphia PA – The Troca
10.11.2016 USA – Providence RI – Firehouse 13**
11.11.2016 USA – Sayreville NJ – Starland Ballroom*
12.11.2016 USA – Hartford, CT – Webster Theater*
13.11.2016 CAN – Montreal QC – Club Soda*
14.11.2016 CAN – Ottawa, ON – Mavericks*
15.11.2016 CAN – Quebec QC – Le Cercle**
16.11.2016 CAN – Kitchener ON – Dallas*
17.11.2016 USA – Columbus OH – Park Street Saloon*
18.11.2016 USA – Westland MI – Token Lounge*
19.11.2016 USA – Pittsburgh PA – Altar Bar*
20.11.2016 USA – Cleveland OH – Agora Ballroom**
21.11.2016 USA – Milwaukee WI – The Rave*
22.11.2016 USA – Minneapolis MN – Mill City Nights*
24.11.2016 CAN – Regina SK – The Exchange*
25.11.2016 CAN – Calgary AB – Dickens*
26.11.2016 CAN – Edmonton AB – Starlite Room*
28.11.2016 CAN – Vancouver BC – The Venue*
29.11.2016 USA – Seattle WA – El Corazon*
30.11.2016 USA – Portland OR – Hawthorne Theatre*
02.12.2016 USA – San Francisco CA – Slim's*
03.12.2016 USA – San Diego, CA – Brick by Brick*
04.12.2016 USA – Anaheim CA – The Grove*
05.12.2016 USA – Tempe, AZ – Club Red*
06.12.2016 USA – El Paso, TX – Tricky Falls*
08.12.2016 USA – Englewood CO – Gothic Theater*
09.12.2016 USA – Lawrence KS – Granada*
10.12.2016 USA – Dallas TX – Trees*
11.12.2016 USA – McAllen, TX – Cine el Rey*
12.12.2016 USA – Austin TX –  Dirty Dog Bar**
13.12.2016 USA – San Antonio TX – Alamo Music Hall*
14.12.2016 USA – Houston TX – Scout Bar*
16.12.2016 USA – Lake Buena Vista FL – House of Blues*
17.12.2016 USA – Atlanta GA – The Masquerade*
* With Sonata Arctica, Omnium Gatherum
** Leaves' Eyes (Headliner shows) plus Omnium Gatherum