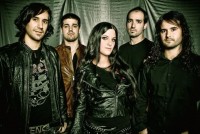 Spanish female fronted Gothic Metal band DIABULUS IN MUSICA will support LEAVES' EYES and ATROCITY in Spain!
Beautiful singer Zuberoa adds:
'We feel very excited and grateful to open for Leaves' Eyes and Atrocity
in their upcoming and awaited visit to Spain since four long years! We are
also happy to announce that our new album 'The Wanderer' will be
officially released by Napalm Records exactly the same date, so it will be
the perfect chance to present our new songs live. You cannot miss all
this!'.
LEAVES' EYES
ATROCITY
DIABULUS IN MUSICA
EMBELLISH
02.03.2012 ESP Barcelona, Mephisto
tickets

03.03.2012 ESP Madrid, Rytmo y
Compas
tickets