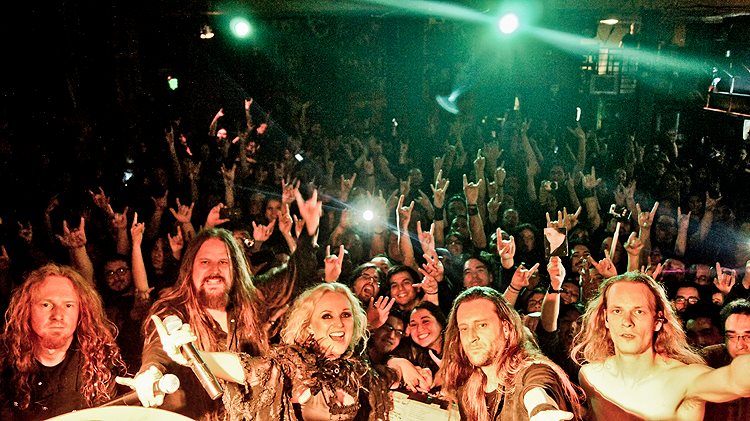 NO SLEEP FOR THE WICKED
Atrocity & Leaves' Eyes across Latin America 2015
A report by Liv Kristine
20. & 21. May
We landed in Santiago de Chile after just one hour of sleep that night. Nobody, really nobody, complained for one single second, really looking forward to our next show. Our last visit to Chile was in 2006. Our long-time friend, Toño, and his crew took so well care of us that we were able to play one of our hottest and loudest shows ever! Lovely Francesca, responsible for the catering and the over-all caring, brought us litres of pineapple-ginger juice and great food! I also met my one and only "personal bodyguard" Estanques and his sweet wife again for the second time this year.
Exhausted but happy we fell onto our beds at my favorite hotel (where I also stayed with the Sirens) around 2 a.m. Most of us slept through breakfast until lobby call 2 pm.
As soon as I got up. I just had to check the pool on the 7th floor at the hotel's roof, recalling that The Sirens had spent some time there in February this year. Unfortunately my red bikini remained untouched in my suitcase. No swimming this time due to the up coming winter season in Chile. Greeting my Sirens in Norway and Holland with kisses and pictures we agreed to try our best to return to Latin America as soon as possible, memorizing good times from our recent tour. My true supporter and friend, Nicole, from our fan club Leaves' Eyes Chile, and our friends embraced us with kisses, presents and pictures at the lobby. Toño, my "personal pickup", arrived with his Harley Davidson to take us out for a Chilean dinner at a real traditional place. Waving goodbye to our wonderful friends and fans and Toño and Francesca we headed for the airport, not knowing what kind of a crazy trip we were soon to face.
Some final pictures and hugs before boarding for our flight to Cochabamba…via Lima and La Paz. The two transits in the middle of the night meant no sleep for the wicked. Oh how we all wished for a comfortable bed!
To be continued!
Check out the photos on our facebook page: https://www.facebook.com/media/set/?set=a.10153909291063901.1073741850.271709448900&type=3